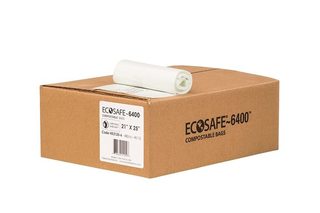 8 Gal Compostable Bag/Liner - 21X25 (QTY:480)
EcoSafe-6400 Compostable Bag and Bin-Liner. BPI Certified.
21 x 25 inches (8 gallon).
This is a go-to bag for larger home compost bins and kitchen caddy systems. These medium size bags are perfect for lining a household "under the sink" bin. This size bag is very common in curbside composting services. This 21 x 25 bag fits a 5 gallon bucket perfectly. If you are looking for a smaller bag for countertop bins, please search for our "HB1617" bag. EcoSafe is in our opinion the leading brand of compostable bag. What we like to say, is if it's stronger than EcoSafe, than it's probably not compostable!
SKU: HB2126-6
UPC: 678526212506
Count Per Case: 480